Type
Corporate website, E-commerce
This website has been designed and developed to ignite curiosity, thrill, and surpass anticipations, mirroring the daily dedication of the Garage Italia team.
Explore every venture, guided by the brand's ethos of "Culture in Motion", and delve into the intersection of the fashion, design, and automotive sectors.
We have embarked on a new design journey with Garage Italia's rebranding, which involves a fresh approach. Additionally, we are also working on their new design studio, which has a separate branding identity. The main challenge is to ensure that the designs are suitable for both the custom and design studio, while also maintaining their uniqueness. We acknowledge that it is a daunting task, but we are putting in our best effort to develop a consistent visual language that complements both entities.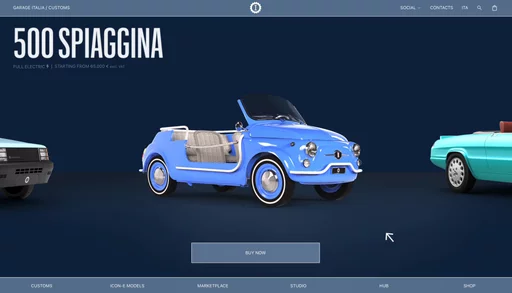 We went with Sanity.io as CMS and Shopify for e-commerce, integrating them seamlessly with other micro-services like CRM and email marketing tools. This made content management a breeze and gave us a comprehensive content management experience that rivals that of an enterprise-level setup. We were able to streamline our operations and improve efficiency. The development stack was designed to provide an all-in-one approach, making content management effortless and allowing the Garage Italia team to interface with essential business tools like CRMs and email marketing platforms.