A laboratory of biodiversity settled capillarily on the Italian territory
A laboratory of biodiversity settled capillarily on the Italian territory
Role
digital partner, design, development, art direction
Brand Breeder was born as a biodiversity laboratory settled capillary on the Italian territory and focused on developing and trading contemporary Wine and Spirits labels of excellence.
As a contentful website with a considering amount of sections, we merged an unconventional approach with a structured composition. To do so, the idea of using a grid whose vertical line anchors to the menu through the navigation flow creating a different layout for each page came out and we brought it in for the whole website navigation.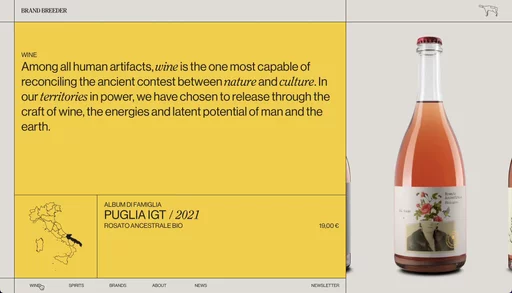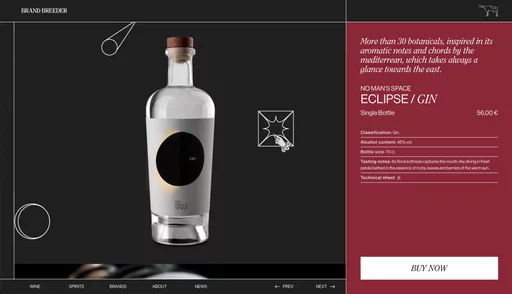 First born as an inside joke at the studio by considering how experiencing wines during the day or night involve a completely different atmosphere, we ended up developing two different color palettes for the project: one to be experienced during the day while the second one after sunset (CEST based). True story.

The doggy-bottle symbol of the logo became another source of inspiration that we recalled in several forms. We used it as an effective icon and simulate its refilling of wine each time a product is added to the cart, and from it we had fun designing a custom and cohesive system of other icons for each Brand Breeder's label to play with around the website.